Wanted to invite you to
support my friend, Quincy City Councilor, Nina Liang next week at her birthday fundraiser in Quincy
(
details below & attached
)
A lifelong resident of Quincy,
Nina is first Asian American City Councilor in the City's history,
and has been
a champion of making government more accessible and transparent for everyone
in the City.
Beyond that, she's also proven herself to be a leader in the broader community
, advocating and supporting the AAPI community (and political candidates) around the State.
She was also recently named the Executive Director of
Emerge-MA
which trains progressive women to run for office, in MA. While this is completely separate from her work on the Council, it demonstrates how respected & influential Nina has quickly become throughout the State, and shows why she's the type of up & coming leader we should support.
This year's birthday bash will be on
Tuesday March 19, 2019 @ Alba's (
1486 Hancock St, Quincy, MA 02169) from 5:30pm - 7:00pm. To RSVP, visit Nina's site here .
I hope you can join me in supporting Nina, next Tuesday
Hi, everyone.
- Noon-1:00pm: The Third Annual Lawrence & Evelyn Wing Family Lectureship
- 6:30pm-9:30pm: "A Taste of Ginger's" Fifteenth Anniversary Gala (... see invitation, below)
It's "All Joslin, All Day", on March 25th, featuring world renowned chefs & speakers (e.g., food for the body & soul). I hope you can join us for what promises to be a fantastic day.
Here are event details, below (also, see "Ginger" invitation at bottom of this email):
-----------------------------------------
The 15th Anniversary of "A Taste of Ginger" (6:30pm-9:30pm)
Over 30 of Greater Boston's best restaurants & celebrity chefs
will gather
at Boston's Museum of Fine Arts, for the 15th Anniversary of "A Taste of Ginger",
benefiting Joslin Diabetes Center's pioneering "
Asian American Diabetes Initiative"
(AADI) which focuses on the study, treatment and cure of diabetes in the Asian American community.
"Ginger" was THE ORIGINAL food tasting event in Boston
, and we're incredibly proud to commemorate its Fifteenth Anniversary.
I'm ecstatic to Co-Chair this milestone celebration with the incomparable Audrey Paek
, and I hope you'll join us as we support Joslin's AADI and its trailblazing work to conquer this debilitating disease.
* To Purchase Tickets:
click
here
------------------------------
------------
The Lawrence and Evelyn Wing Family Lectureship Series (Noon-1:00pm)
Please join us earlier in the day (Noon-1:00pm) for
the Third Annual "Lawrence and Evelyn Wing Family Lectureship Series"
- named in my parent's memory.
We're honored that our lecturer this year will be highly respected, world renowned heath care expert
Dr. Frank Hu
from Harvard T.H. Chan School of Public Health
.
The Lectureship is
free & open to the public
, and will take place at Joslin Diabetes Center - 1 Joslin Place.
The Lawrence and Evelyn Wing Family Lectureship Series
was created to support Joslin's first-in-the-nation Asian American Diabetes Initiative (AADI) and its efforts to combat diabetes in the Asian American and Pacific Islander communities.
Monday, March 25, 2019
6:30 pm - 9:30 pm
Museum of Fine Arts, Boston
Event Chairs:

Leverett Wing and Audrey Paek
Join us for this culinary and cultural experience to benefit Joslin's Asian American Diabetes Initiative! A Taste of Ginger is one of Boston's largest food events with nearly 30 celebrated chefs from the Boston area. Don't miss out on an unforgettable night of transcultural cuisine at an extraordinary venue.
Joslin Diabetes Center is the preeminent diabetes research center, diabetes clinic, and provider of diabetes education. Joslin is unique in its sole focus on diabetes with the world's largest team of board-certified physicians treating diabetes and its complications, as well as the largest staff of Certified Diabetes Educators anywhere in the world. Joslin is dedicated to finding a cure for diabetes and ensuring that people with diabetes live long, healthy lives.
Come and Explore What We Have This Month!
See what we have to share this month!
- Upcoming Events -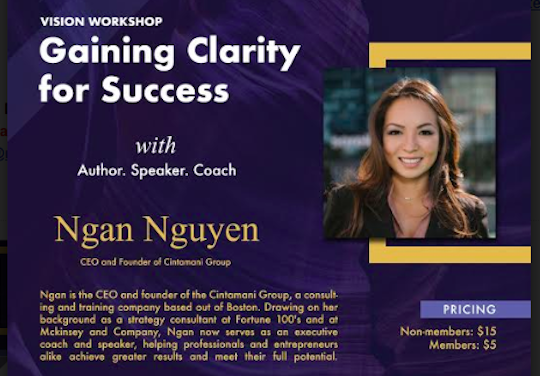 Vision Workshop - Gaining Clarity for Success!
Tuesday, March 5th, 2019
1 Broadway St., 4th Floor Cambridge MA 02139
Based on the work of Napoleon Hill, we all possess faculties that the most successful leaders and entrepreneurs throughout history have used to create their results. When you learn this in order to define a powerful vision and apply them to your life, you will find new solutions to overcoming old problems, your challenges become smaller, you will have more drive and energy to achieve your goals and greater impact. In this interactive and fun workshop, you will have an opportunity to define, design, and experience the results you would love to create – and learn proven tools & strategies that will enable to achieve your goals with greater ease.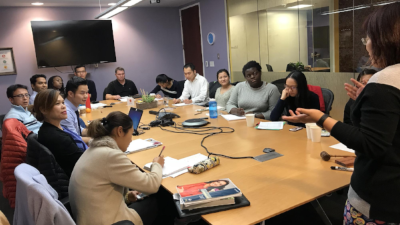 Toastmasters Club
Thursday,March 14th and 28th , 2019 @ 6:30pm-8:00pm
CIC, 50 Milk St, 16th Floor, Edison Room, Boston, MA 02109
Looking to be a better communicator? Want to deliver amazing presentations? NAAAP Toastmasters Club provides a friendly and supportive environment for you to grow as a leader. The meetings are open to the public and everyone is welcome. Join us and take the next step in actualizing your potential today!
-NAAAP National-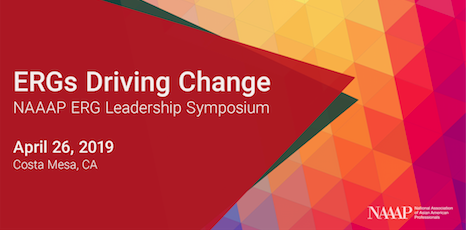 2019 NAAAP ERG Leadership Symposium
- ERGS Driving Change: Data, Trends, and Leadership
Friday, April 26, 2019
Experian, 475 Anton Blvd, Costa Mesa, CA 92626
Approaching its 5th year, the NAAAP ERG Leadership Symposium is the must-attend event for ERG leaders. Executives, ERG leaders and members as well as engaged employees from across the country have participated in regional events such as this. The Symposium offers top-notch speakers, programming and takeaways tailored to professionals and companies motivated to make a difference in the diversity, inclusion and intersectionality space in the industries they lead.
- Past events -

Board Game Night Fundraiser
Thank you to everyone who came out to our Board Game Night on February 23rd! We had a fun night of games, mingling, and food, with close to 100 participants. All proceeds will go towards Scholarship in support of our annual
Future Leader Awards.
Special thanks to the Networking committee and the
Boston Asian Professionals Meetup
group for partnering with us for this event. Please keep an eye out for upcoming fundraisers!
- NAAAP Boston News -
We are excited to welcome the new executive team and look forward to their leadership in the continuing success of NAAAP Boston:
- Swan Lee, Interim President. Swan has been serving as Vice-President of Sponsorship. We appreciate her stepping up to provide leadership as Interim President for the first half of 2019.
- Nika Zhou, Vice-President of Relations will lead the Business Development, Membership, and Networking committees.
- Susan Dong, Vice-President of Programming will lead the Professional Development, Community Service, Scholarship and Special Ventures committees.
- Anh Le continues her term as Vice-President of Finance.
We would like to recognize the work of the outgoing executive team:
- Vicky Liu, President
- Swan Lee, Vice-President of Sponsorship
- Amy Qiu, Vice-President of Community Engagement
- Iyleen Summer, Vice-President of Operations
We deeply appreciate the excellent work that all of our committee leaders do in pursuit of our vision and mission.
- Opportunities -

NAAAP Boston is recruiting volunteers!

Do you have a strong skill set and looking for the right opportunity to serve in a mission driven non-profit organization? Are you interested in building your leadership skills and expand your professional network? NAAAP Boston could be the right fit for you! For more information about volunteering, please contact recruiting@naaapboston.org.

Jobs at Partner Companies

For more information on our job postings, please contact corporaterelations@naaapboston.org.


Amazon Smile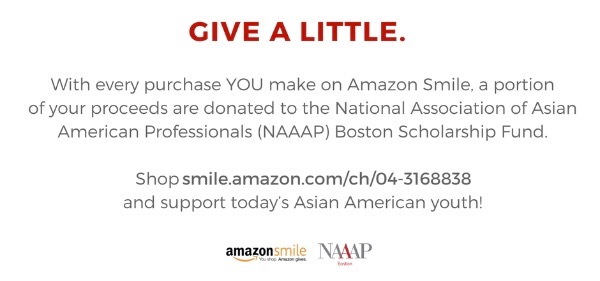 - Follow us -
Connect with us for the latest events and updates!
- Sponsors -
Gold Level Sponsors

Hi Boston TAP folks,



We still have a few spots for volunteering at the Greater Boston Food Bank tomorrow. Please reserve your spot via the link below! We look forward to giving back to the community with you.

Two pairs of tickets are up for grabs to see a Taiwanese rap group 頑童MJ116, who will be in Boston on March 6th! Check out how you can get these free tickets below!

Follow us on Instagram to get updates on upcoming events and pictures!

Love,
TAP-Boston
Volunteer at Greater Boston Food Bank
Sat, Mar. 2 2019 1:00 PM – 3:30 PM


The Greater Boston Food Bank, 70 South Bay Ave Boston, MA 02118
We are going to the Greater Boston Food Bank again! Volunteer with us as we help families in need. As a group, we will sort and pack donated groceries for hunger relief agencies.

SUGGESTED ATTIRE: Volunteers will want to wear comfortable clothes they do not mind getting dirty. You should avoid wearing loose clothing, including: untucked shirts, wide sleeves, wallet chains, bracelets or long necklaces. Long hair should be tied back or contained in a hat.
Questions? Ask us on Facebook!
Volunteer at Pine Street Inn
Sat, Mar. 9 2019 9:00 AM – 12:30 PM
Pine Street Inn, 444 Harrison Ave, Boston, MA 02118
We are volunteering at Pine Street Inn again! Founded in 1969, Pine Street Inn provides a comprehensive range of services to nearly 2,000 homeless men and women each day. It is the largest homeless services provider in New England. Pine Street Inn prepares 17,500 meals each week, 52 weeks a year.

We will be helping with meal prep. Hope to see you there!
Questions? Ask us on Facebook!
TAP Lunch Series @ India Pavilion
Sat, Mar. 16 2019 12:00 PM – 1:30 PM
17 Central Square, Cambridge, MA 02139
Join Junli (Community Development Chair) and Chris (Tech Chair) at India Pavilion for some Indian cuisine near Central. This lunch series is a great way to enjoy a good meal with a fun group of people including two TAP board members to learn more about our organization and upcoming events.

There are only 8 available spaces so sign up soon to guarantee yourself a spot! (RSVP is free. Individual buffet cost is $11.)
Questions? Ask us on Facebook!
IdentiTEA
Sat, Mar. 23 2019 2:00 PM – 3:30 PM
BCNC, 38 Ash St, Boston, MA 02111
What does it mean to be a Taiwanese/Asian-American today? How do (or don't) our identities and heritages impact us in our day to day life? Join us for our annual IdentiTEA - a thoughtful, small group discussion where we connect with our fellow Taiwanese/Asian-Americans, share our personal stories, and chat over a build your own bubble tea bar.
Questions? Ask us on Facebook!
6:00 - 7:30 PM
Pao Arts Center
99 Albany St., Boston, MA
Please join us at our Annual Meeting
6:00 - 6:30pm

Light Refreshments
Individual: Vivian Hsu, Hsu & Associates LLC
Corporate: Ernst & Young, LLP
ATASK Staff: Katharine Estes

Saturday, May 11, 2019
Mark your calendars! ATASK is once again hosting the 5th Annual Community 5K that brings together non-profit organizations serving the diverse Asian population in Greater Boston.
Run or walk around the

beautiful Chestnut Hill Reservoir with friends and family to show your support for non-profit organizati

ons. Registration is now open. Sign up here!
If you are a non-profit that would like to participate in the Community 5K and raise funds for your organization, please email
devintern@atask.org
for more information
.
If you would like to volunteer for this event, visit the volunteer section
of our 5K website.
The 2019 Silk Road Gala
will be on Saturday, October 19.
We are a peer-led, community-based network dedicated to advancing Asian women's health and wellness through
education, advocacy, and support
----------------------------------------------------------------------------------------------------
AWFH Newsletter | February 2019
Healing by Choice / Epilepsy

We are excited to speak with Jessica "Jay" Wong, a community advocate for social justice and youth programs, to be our guest for "From Resilience to Radiance" Podcast episode #2.

Listen to the podcast on SoundCloud, Sticher, or Google Play. If you like our contents, please subscribe, share and comment - we would always welcome your suggestions and feedback.

Register for 2019 AWFH Annual Conference!

The 7th Annual State of Asian Women's Health in MA Conference: Right Questions + Right Data = Right Actions will convene at the NE Carpenters Training Center (750 Dorchester Ave., Boston, MA 02125) on Friday, May 10th 2019.

Please click here to register. Also see the attached form for sponsorship / advertising / exhibit opportunities. We thank you in advance for your consideration in supporting our efforts.

To see the ACO recommendation based on 2018 conference discussions and presentations, click here.



Keynote Highlight:

Rahul Bhargava at MIT Center for Civic Media will give a talk on

Doing Good Data

How do use use data to further your mission? How do you get from data to the right story to tell? This talk will review approaches to helping you align you data work with your organizational goals. We'll pull apart the technologies that can help analyze from the process that gets you to an impactful story. You'll hear some inspirational examples and practice with a participatory activity (bring a connected smartphone if you have one).

Save the Date:

10th Massachusetts Asian American Mental Health Forum

AWFH is excited to announce that the Asian American Mental Health Forum (AAMHF) will hold its 10th annual conference onSaturday, May 18th at the Malden Senior Center, 7 Washington St, Malden, MA 02148. This year's theme is Recognizing Our Value: Forging Solutions to Combat Stigma & Internalized Racism. We are very excited to celebrate a decade's worth of coming together around Asian mental health and wellness.

Last year, more than 150 attendees enjoyed a day of learning, networking, sharing, and advocacy. This year's conference promises to be an outstanding event where attendees will participate, learn, and dialogue through presentations, workshops, and networking opportunities. Participants will hear from expert presenters and have an opportunity to inform strategies and learn how best to serve culturally and linguistically diverse populations, including immigrants, refugees, and LGBTQ Asians.

The Forum's Planning Committee invites you to sponsor this gathering of community members, persons with lived experience of mental health challenges, service providers, students, community-based organizations, researchers, policy makers, and other professionals. Sponsorship of this event is an excellent way to enhance your agency's visibility and support positive change in your community. Your financial support ensures that the conference continues to be free for all attendees. Please see sponsorship form attached.

See the highlights from Asian American Mental Health Forum 2018

Member of the Month: Sophie Li


Sophie had been a postgraduate of Comparative Education in Europe and worked for the better welfare of the rural area minor-ethnicity teenager students in mainland China.

As a volunteer for AWFH for over 3 years, she has been supporting the CelebrAsians Benefit Fashion show and participating the Achieving Whole Health training program as well as organizing workshops of Mental Health, Suicide Prevention at MIT.

I Am and I Will

May Lam shares her personal and powerful story that brings us to deep thoughts about cancer, family, death, and life. Cancer is the leading cause of death in the Asian community, especially certain subgroups.

May Lam is a current senior at Northeastern University, completing her Bachelor's degree in Health Science, with plans to pursue a second degree in Nursing upon graduation. She is completing her final capstone with Asian Women for Health because she believes in its mission to promote women's health through education and empowerment.

AWFH at Quincy New Year Festival

Asian Women for Health spreading words about breast/cervical health at Quincy New Year Festival on February 10.

WeChat group for Chinese breast cancer patients, survivors and their love ones

AWFH is creating a WeChat Group for Chinese breast cancer patient, survivors and their care givers to share information and support one another.

If you are interested in joining or need more info, please email info@asianwomenforhealth.org

Endlings: A new play by Celine Song

Endlings is a uniquely funny and poignant play by Celine Song that takes us to the Korean island of Man-Jae, where three elderly haenyeo spend their final days diving for seafood. These dynamic and colorful women have no heirs to their millennia-old way of life. Meanwhile on the island of Manhattan, a Korean Canadian playwright deals with New York City problems like rent costs and mice, all the while wrestling with the responsibility and frustration of telling "authentic" Asian stories to white, Western audiences. Endlings is an incisive yet humorous exploration of Asian and Asian American identity and representation in the arts.

Use discount code DIVE25 to lock in $25 tickets, and use the ticket request form for group

When: February 26 – March 17, 2019
Where: Loeb Drama Center (64 Brattle Street, Cambridge)

There'll also be a community event inspired by the play on March 10 at the Harvard Ed Portal in Allston.

Free Mental Health Training

Thanks to generous grant funding from, and in collaboration with CHNA 7 MetroWest, HESSCO is pleased to offer three free mental health trainings in March:

SafeTALK: Friday, March 1, 2019
Canton Public Library, 786 Washington Street, Canton, MA

Mental Health First Aid Training: Friday, March 8, 2019

Whitney Place at Sharon, 675 South Main Street, Sharon, MA 02067

Suicide & Aging: A Gatekeeper Workshop: Wednesday, March 13, 2019
Sharon Adult Center & Council On Aging, 219 Massapoag Ave, Sharon, MA 02067

Space is limited. To register, contact Ann Rudy at ARudy@HESSCO.org

"Catalysts of Change":

7th Annual Lesbians+ of Color Symposium (LOCS)

Established in 2012, The LOCS Collective is a non-profit community organization dedicated to the service and support of the lesbian, bisexual, transgender and queer (LBTQ+) identifying women and non-binary people of color and our allies. More specifically, LOCS provides community and cultivate resources through advocacy, education, programming and networking.

The 2019 symposium is proudly co-hosted by Harvard Law School QTPoC . The event is a unique opportunity for our community to engage in critical conversations around sexual health, self-care, healthy relationship-building and more!

When: Saturday, March 9 , 2019
Where: Harvard Law School in Cambridge, MA

Click here for registration and more information. Click here to download panelist bio and agenda
Use promo code 19LCSSPRVIP to access additional tickets available through March 3, 2019

Fill Out Community Survey to Win iPad:

Collaborative Boston Community Health Assessment

Health Resources in Action (HRiA) is helping to lead and support a joint data gathering and planning process for the new Boston CHNA-CHIP Collaborative (www.BostonCHNA.org). The Collaborative is a new group of numerous community organizations, the Boston teaching hospitals, health centers, and the Boston Public Health Commission. They are undertaking a joint community health assessment process and collaborative planning process to identify and leverage opportunities, strengthen partnerships, align resources, and coordinate efforts.

HRiA is conducting Boston CHNA community survey (www.surveymonkey.com/r/bostonCHNA) to learn more about health-related needs and strengths of Boston residents. The survey aims to gather information on the health-related needs and strengths of Boston residents, and we hope to hear from voices that are often under-represented. The survey is available in seven languages (English, Chinese, Vietnamese, Arabic, Spanish, Portuguese, and Haitian Creole). The survey takes about 20 minutes to complete, and will close by March 5. Respondents will have a chance to win an iPad. Please reach out to Kristin Mikolowsky, M.Sc. for any questions: kmikolowsky@hria.org. 617.279.2270

New Funding Opportunity at

OMH Hepatitis B Demonstration Grant Program

The Office of Minority Health has just released a new funding opportunity to develop model comprehensive hepatitis B programs that include strategic partnerships between: community-based organizations servicing communities-at-risk; departments of health; perinatal hepatitis B programs; safety net providers; research centers; and healthcare facilities.

Learn more about this FOA and how to apply.

Free Breast / Cervical Health Workshop

As a community partner for Boston Medical Center, Asian Women for Health received a grant for 2018-2019 to conduct outreach education in the Asian communities.

we delivered the cervical health workshop for the members of "Angry Asian Girls" and "NAPAWF: National Asian Pacific Women's Forum" at the Pao Arts Center on January 25.

If you would like AWFH to come and conduct a breast health or cervical health workshop for your group/organization, please email info@asianwomenforhealth.org. All workshops are FREE but a minimum of 20 participants is required.

Support Women Survivors of Cancer & Trauma with

Competing For A Cause

Competing for a Cause (CFAC) was founded in October 2015 by amateur ballroom dancer Aiyesha Dey with the help of her teacher and professional dance partner Mayo Alanen. At CFAC, a community of artists and athletes come together and amplify their own personal goals and success through helping others. Since its inception CFAC has contributed towards helping orphans and homeless street children in India, children with disabilities and underprivileged senior citizens.

While CFAC started with a small community of dancers, the vision is that this community will continue to grow o ver time to someday include individuals with interests in many different areas who come together to give back through their hobbies and passions.

The 2019 cause is Women Survivors of Cancer & Trauma. Donating to this cause is also supporting AWFH.


2020 Census Jobs Recruitment

The U.S. Census Bureau is recruiting thousands of workers for temporary jobs available nationwide in advance of the 2020 Census. The 2020 Census Jobs website allows applicants to apply for a range of positions, including recruiting assistants, office operations supervisors, clerks, census field supervisors, and census takers. The positions will be located across 248 Area Census Offices nationwide and offer flexible work hours, including daytime, evenings, and weekends.

Please refer to the 2020 Census Recruitment Toolkit for more information about the census and social media guidelines, tips, sample posts, and sample email messages for spreading the word.

Seeking Asian (Chinese/Japanese/Korean)

breast cancer patients/survivors for study

TICAA (a technology-based information and coaching / support programs for Asian American women living with breast cancer) is looking for participants for Asian (Chinese / Korean / Japanese) breast cancer patients / survivors. This study is run by Eun-Ok Im, PhD, MPH, RN, CNS, FAAN and colleagues at Duke School of Nursing

Check here for more information in Chinese, Japanese, and Korean
Or call 919-660-1600, or email TICAA@dm.duke.edu

Alzheimers' and Dementia Support Group

Events Series



Join us the second Friday of each month from 5:00 PM to 6:30 PM

Mar 8 - First This, Then That: The positive relationship between routine and dementia
Apr 12 - Caring for yourself - Integrating mindfulness into your stressful life
May 10 - To resuscitate or not: What does it mean to make a difficult decision for your loved one
Jun 14 - The 'H' Word: Five Things to Know About Hospice

RSVP to Cydney Dang, LSW, Social Worker
Cydney.dang@southcovemanor.org
(617) 237-3624

2019 Summer Institute for Medical Students (SIMS)

Application Deadline Coming Up!

Medical students come to the Hazelden Betty Ford Foundation to learn about the science of addiction—they leave knowing the spirit of recovery. SIMS participants learn about addiction as a bio-psycho-social-spiritual disease and about how treatment addresses the whole person. Participants also learn how Twelve Step programs are used in addiction treatment and become part of the lifetime recovery "prescription." They are immersed in the treatment process and come to an understanding that the program is about moving from thinking only with one's head toward thinking with one's heart. They come to see the human being behind the disease.

There are 195 full scholarships to attend our five-day SIMS immersion program, which will be held at both the Betty Ford Center campus in Rancho Mirage, California, and the Hazelden Betty Ford campus in Center City, Minnesota. The scholarship includes airfare (up to $500), a hotel room for six nights.

Submit your application here before final deadline of March 1, 2019

Calling Nursing and Health Care Skills

to Have a Place on Suburban's Team!

Clinicians just starting their careers

Experienced Nursing Professionals seeking a different care-giving style

Students attending an accredited nursing program

Now is the time for you to discover your career in health care with Suburban Home Health, one of the oldest and largest providers of Home Health Care in the Boston area!

Download the description here

AWFH Self-Care Video Project:
Recruiting Asian Women for Interviews

Asian Women for Health is working with Nikita Sampath, a multimedia journalist to produce a short video on Self Care within the Pan-Asian community. The goal of the project is to

Spread awareness on the existing ideas of self care and traditional medicine within the Pan-Asian community, and

To bring awareness to the Pan-Asian and larger communities regarding the importance of practicing self care

Toward the same, we are looking for volunteers to answer simple questions on their ideas of self care. We are also looking for expert opinions on

The ideas of mind, body, spirit connection and the traditional approach to health

Preventive-care as a form of self care and Asian attitudes towards it

The importance of self care and what happens when it is not present

Any questions regarding the project can be addressed to Nikita Sampath at nikita.v.sampath@gmail.com

Scholarships for Cancer Patients and Survivors

There is a wide range of very generous organizations and advocacy groups dedicated to helping anyone 'living with cancer' afford a college education. The grants are for cancer patients and survivors, children or siblings of cancer patients and survivors, and students who have lost a parent to cancer.

Nancy Novack, Ph.D. has compiled an extensive list of scholarships available to seniors who will be graduating next June as well as students who are now in college, vocational schools, and graduate programs.

Volunteer with AWFH

Asian Women for Health is always seeking volunteers to become part of our network! If you are interested, please take part in this brief survey. Your participation will help us match your interests to the various volunteer opportunities. We look forward to growing the AWFH network with your help!

Clean, Shop, Do Good!

AWFH is partnering with Union & Fifth to gather and sell donated designer items from members. All proceeds will help AWFHcontinue serving and educating women about health!

Calling Sponsors for Newsletter!

Promote your company/organization here to over 2,200 AWFH e-newsletter subscribers!
Tickets available now for 2018 Silk Road Gala!

Saturday,October 27, 2018, 6:00 pm,

Marriott Downtown Boston

Join us for a special evening of food and festivities

as we celebrate our

Community Heroes

and experience the sights and sounds of Asia.




The evening includes

Keynote Speaker

Bill Cummings

,

who will share his insight on entrepreneurship and philanthropy,

and a survivor who will share a powerful story about

her journey

to independence.

Guests will then "travel" to different

regions of

Asia,

where they will enter a temple, listen to an

Indonesian

Gamelan

Ensemble, visit food stations, wander around a

Southeast Asian

market place,

and much more!

Individual tickets are $225.

Click

here

to purchase tickets.

Registration deadline is October 12.




Click

here

for more information about the Gala,

to preview Silent Auction items, and for s

ponsorship opportunities.




Your presence and generosity supports ATASK's mission

to prevent domestic violence in Asian families and communities

and to provide hope to survivors.

and

our many other

sponsors

, for making the Gala possible.

Can't attend?

Support ATASK

with an online donation. Your donation supports essential services and programs, and is deeply appreciated.

STAY CONNECTED:

Asian Task Force Against Domestic Violence

,

PO Box 120108

,

Boston

,

MA 02112




Applications for Our Fall Session Are Here!

Applications Are Available for our Fall 2018 Session




Our next Seminar Session begins in less than a month!




If you, or anyone you know, would like to learn about the "ins-and-outs" of working with, in, and around government, we'd love for you to apply.




You'll join over 1,250 Seminar alumn

i who have learned the "essentials" about the legislative process, the budgetary process, lobbying/advocacy, and working with the press & media.

Our newest Seminar Spotlight features Seminar grad (and our Seminar Outreach Coordinator)

Lily Tang

!




Read about Lily's efforts to bring a

first-of-its-kind Film Festival to

U/MA Amherst where she's beginning her second year... and see how you can help!

Our Alumni Summer Reunion




Over 100 Seminar alumni

and their friends & families joined us on Boston Harbor for our recent Seminar Summer Reunion. The Seminar was proud to support

Boston Harbor Now's

efforts to make the Harbor, its Islands and its resources available to all communities, and are grateful for the warm welcome we received on the Provincetown II.

| | | |
| --- | --- | --- |
| | | The Seminar is proud to work with a number of partners in the public and private sectors to offer a wide variety of job opportunities for our friends and alumni. Visit our Jobs Page for details |












Upcoming Events
Interested in getting involved with WIN (Women in NAAAP) committee? Join us at this meeting to learn more about the committee, meet current leaders and see how you can help us brainstorm and plan future events.




Networking Mixer: LeaderSIP




Thursday, September 13 2018,

7:00 pm - 9:00 pm EDT

LimeRed Teahouse 1092 Commonwealth Avenue, Boston, MA 02215

Come join us for a night of networking over delicious bubble tea! We'll be highlighting our upcoming professional development conference, AccelerASIAN. Your ticket comes with 1 free bubble tea and a chance to meet other professionals. You'll also receive an exclusive discount for our AccelerASIAN conference. There will be some awesome raffles too! Price: $5 Members // $10 Non-Members. Purchase tickets here.




'

Saturday, September 29, 2018, 8:30 am – 5:30 pm

200 Clarendon St 23rd Floor Boston, MA 02116

NAAAP Boston's marquee leadership development conference, offers exciting and cutting edge insight around leadership, innovation, and equality. This conference features interactive opportunities to learn, practice, and master the skills you need to advance your career in this demanding digital age. AccelerASIAN focuses on helping diverse individuals be their authentic selves and to thrive in the future workplace. As the tempo of business accelerates, so do the demands on your contribution! Are you aware of the most sensitive areas for change? Do you have the skills to adapt to the environment?

AccelerASIAN presents you with the chance to embrace the agility to lead in an accelerated society. Come explore the workshops and sessions that we can offer to you and your journey.Visit our website for more information and register today!




Thursday, September 13th and 20th, 2018, 6:30-8:00 pm est
CIC,

50 Milk St, 16th Floor

,

Edison Room, Boston, MA 02109

Looking to be a better communicator? Want to deliver amazing presentations? NAAAP Toastmasters Club provides a friendly and supportive environment for you to grow as a leader. The meetings are open to the public and everyone is welcome. Join us and take the next step in actualizing your potential today!



Partners Upcoming Events
Saturday,

September 8th,2018,

4pm -10 pm

Boston City Hall Plaza

NAAAP Boston members are invited to attend Boston Night Market at a discount! Inspired by night markets in Asia, the inaugural Boston Night Market will be a spectacular evening of lights, food, games, and entertainment. There's also chances to win raffle prizes, including a round trip ticket to Iceland.

Receive 20% off any ticket type with code "NAAAP20"
Past Events
Networking for Introverts

(Extroverts are welcomed)

The WIN Committee is excited to partner with Kit Pang @BostonSpeaks for a Networking for Introverts workshop. The workshop was interactive and crowds were engaged and energized! We are looking forward to further collaboration with Kit. Please keep an eye out for future WIN events!




Community Service's event

Thank you to everyone who volunteered to prepare and serve lunch to homeless men and women with Pine Street Inn on August 5th!




"Breaking the Model Minority Myth"

On Wednesday, August 26, Sun Life Financial hosted the "Breaking the Modeling Minority Myth" speaker session in partnership with NAAAP Boston with speakers Tina Wong-Russell and Jim Fong from the NAAAP Boston Board. Jim and Tina helped the audience understand the stereotypes associated with being a "model minority" and clarify the difference between "Conforming" vs "Authentic" behaviors. The goal of the session was to learn more about how ethnic cultures affect our behaviors in the workplace, and to work effectively with and around these influences. The session attracted more than 40 people across Sun Life's U.S. locations.



Opportunities
NAAAP is recruiting Leaders!

Do you have a strong skill set and looking for the right opportunity to serve in a mission driven non-profit organization? Are you interested in building your leadership skills and expand your professional network?

NAAAP Boston could be the right fit for you!
Volunteer Leadership Positions
As a leader of NAAAP Boston, you will receive:

Meaningful leadership experience that will help you become a better leader
Specific leadership training

For more information on our job postings, please contact recruiting@naaapboston.org.
Positions from Partner Companies
Shopping with Amazon!
Support today's Asian American youth and NAAAP Boston by shopping on Amazon Smile! With every purchase you make, a portion of the proceeds goes to our NAAAP Boston Scholarship Fund, used every year to reward high school seniors with exceptional leadership and high academic achievement.

Make sure to shop at

smile.amazon.com/ch/04-3168838

and share this link for everyone to see - your co-workers, friends, family - and tell them how to get amazing deals and generate donations this Prime Day!

#StartWithaSmile #PrimeDay
Hi Boston TAP folks,

We are pleased to introduce you to the newly appointed TAP Boston Board for the 2018-2019 term! Feel free to reach out to us if you have any questions at all and we look forward to meeting you at our upcoming events - please say Hi!

Treasurer:

Felicia Au


Social Chair:

Alicia Chang


Cultural Chair:

Jasper Chen


Marketing Chair:

Li-Chen Pan


Tech Chair:

Chris Lo


EDGE Co-Chair:

Karen Lin


Community Development Co-Chair:

Junli Hao


Community Development Co-Chair:

Mike Li


Professional Development Chair:

Ted Bang


Social & Cultural Advisors:

Jen Tsang and Anthony Wu


Vice President:

Lloyd Liang


Vice President & EDGE Co-Chair:

Vanessa Chiang


President:

Li-Ming Tseng



Love,
TAP-Boston



P.S. Apply to be an EDGE mentor!


Want to shape the next generation into better leaders? EDGE is a one-year program that offers you a chance to give back to the community by providing college students career guidance.

Apply here:

tinyurl.com/edgementor1819
Networking for Introverts (Extroverts are Welcomed)
August 8 @ 5:30-7PM
60 South Street (KPMG Boston)
Only 1 week away! Join us and communication expert Kit Pang in a workshop to tackle some common mental obstacles when talking to others and work on improving them. Only a couple tickets still available!
Who Is This Workshop For?
This workshop is for people who know they need to network, but just need a little push to get them out there
Recognizing your emotions
Dealing with negative feedback loops
Changing your mindset to make networking fun and not a chore
Exercises to help deal with social situations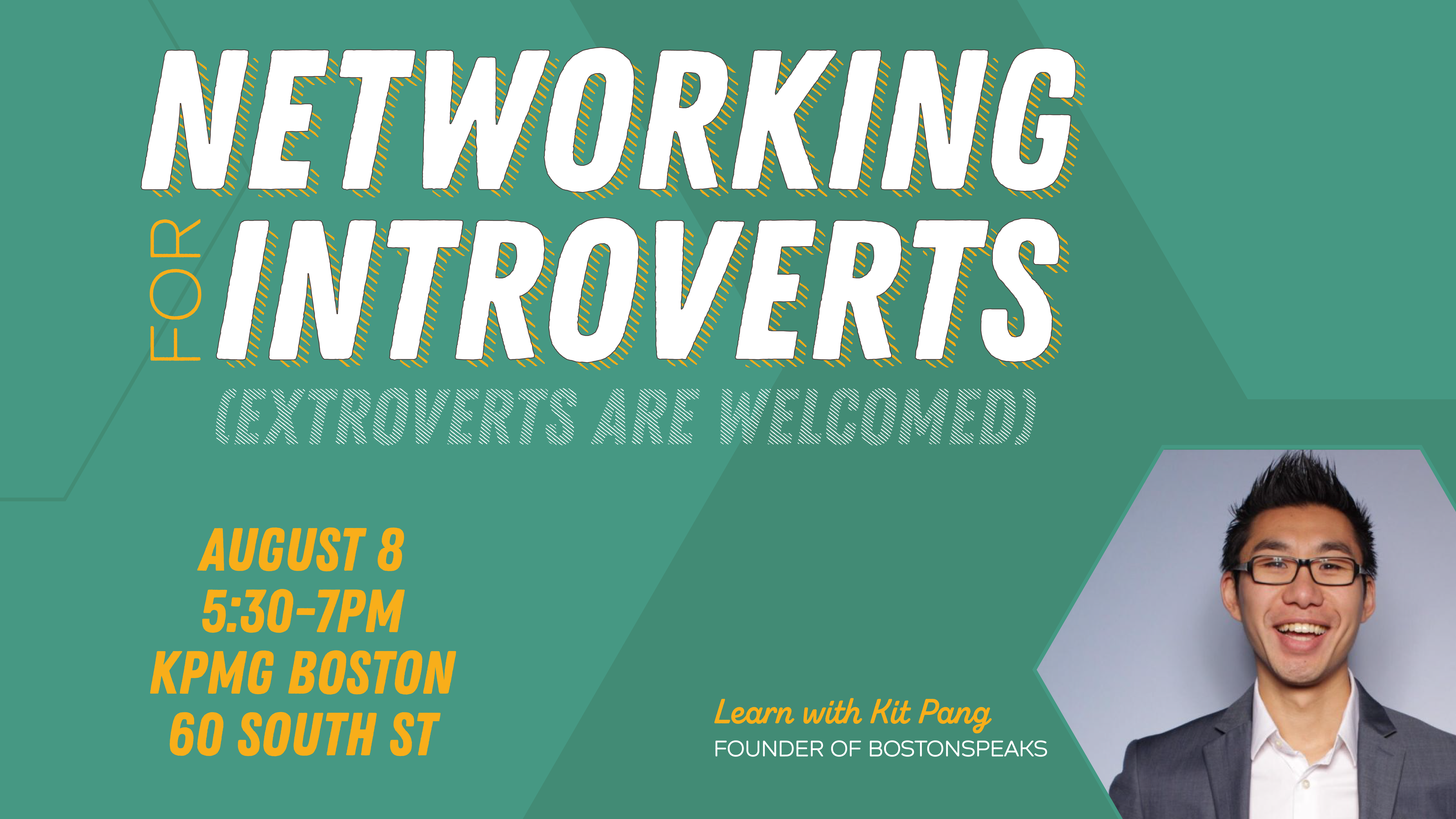 Kit Pang is a Communication Expert, TEDx Speaker Coach, TEDx, Inbound and Keynote speaker and the founder of BostonSpeaks. He is on a mission to help individuals become exceptional speakers and communicators. Kit's seminars and talks have been credited as super fun, engaging, soul-searching and insightful. His happy clients include individuals from organizations such as Dell, Delta, RE/MAX, Harvard or MIT. @kitpangx | @boston_speaks,
www.bostonspeaks.com
Copyright © 2018

National Association of Asian American Professionals - Boston Chapter

, All rights reserved.



This email was sent by:

National Association of Asian American Professionals - Boston Chapter

PO Box 51922 -

Boston, MA, 02205
Taiwan Bio Forum : Healthcare Innovation Beyond Borders




In the advent of the International BIO Convention in Boston, joinus for a day of

healthcare

and biomedical

innovations at Taiwan Biotech Forum

, jointly hosted by MJNE and DCB on

June 3

rd at the Joseph B. Martin Conference Center

at Harvard Medical School.

Meet and network with top leaders in biopharma, medtech, venture capital, and academia from Taiwan and around the world.

Keynote Talk - "Venturing into the Digital Health Era

Startup Ecosystem Panel Discussion – "Fostering Entrepreneurship and Innovation"Startu

VC Panel Discussion - "Building Cross-Border Partnerships"

Corporate Panel Discussion - "Cross-Sector Innovations in Healthcare"

Academia-Industry Panel Discussion - "Fostering a Robust Ecosystem"
Keynote Speaker: Jason Wang

We are thrilled to have

MasterChef's Jason Wang

as our keynote speaker sharing his perspectives as a second generation Taiwanese American!

As a chef, musician, and educator, Jason is an active leader in many communities within Greater Boston.

TAP Boston 6th Annual Spring Gala

Serving Our Communities. Growing

Tomorrow's

Leaders.

Saturday, May 19th, 7 to 9 PM




Please join us for our 6th Annual Spring Gala to celebrate accomplishments of TAP-Boston's programs and community impact over the past year! Learn about our vision for a better Boston, make meaningful connections with people who care about this community, and together give back to this place we call home.




Our Program

The 6th Annual Spring Gala is a formal evening filled with program showcases, raffles, awards, and a photobooth! Catch up with friends you made in the past year at TAP events, or meet someone new over hors d'oeuvres and a drink all dressed up. Either way, we're excited to see you soon!




Dress code is cocktail attire.




Ticketing

Your ticket includes light hors d'oeuvres, one raffle ticket, and good fun!




Early bird tickets end

May 1st, 11:59PM.

($25)

Regular tickets end

May 17th, 11:59PM.

($35)







--

Chyi-Shin Shu

| 舒其馨 | President

| 714-200-3011